KTH Telecom Company Limited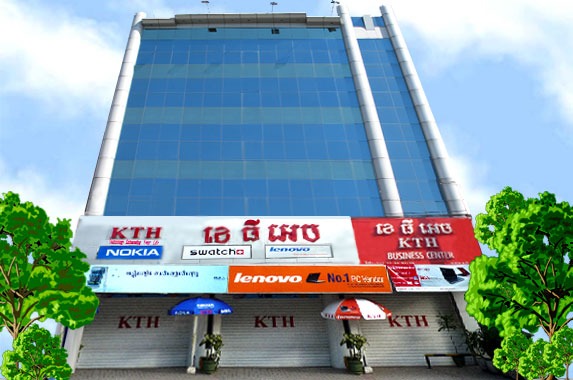 Founded in August, 2002, KTH distributes the world's leading mobile phones and accessories. We have over 1000 associates today serving the Cambodian and Laos market. KTH mainly deals with NOKIA mobile and relevant products on an "exclusive/sole" distributorship designated by NOKIA Mobile for the Kingdom of Cambodia and Laos.
KTH has demonstrated high professional standards and quality in very face of its organization to be awarded this prestigious right and remains number 1 in both countries today.
After much great success of market penetration of the Nokia brand and recognizing the needs of the local market, KTH started in 2010 to partner with Lenovo - IBM Technology and manufacturing process and more recently, Haier Group, the leading distributor for Home Electrical Appliances in the World, to drive our vision of 'Technology enhancing your life'' ideology with the future and especially our clients and customers at the top of our priorities, KTH have now Nokia mobile phones, Lenovo computers, Swatch and Haier home electrical appliances as our main product lines.
Nokia
Sharing Nokia's 'Connecting People' principal, KTH is proud to be one of Nokia's business partners. Offering a wide range of mobile phones at affordable prices with Symbian and Maemo technology, Nokia has a significant achievement as the world's leading supplier of mobile phone distribution and market share. Recognizing the needs to further bring people closer and to offer users more than just a phone, Nokia has eveloped OVI online application and Nokia Chat Instant Messaging where our consumers can live life on the go!
Lenovo
Through Lenovo's concept of 'New World New Thinking' philosophy provides consumers worldwide with the highest standard technological products at the most affordable prices. Lenovo is one of the world's largest makers of personal computers with technology , engineer and R+D teams from original IBM platform and make the world's most innovative PCs, including the renowned ThinkPad® (by IBM Technology Notebook as well as products carrying the ThinkCentre, ThinkStation, ThinkServer, IdeaCentre and IdeaPad sub-brands.
Haier
Haier is the biggest manufacturer of home electric appliances in China. Haier head office is located at Qingdao, Republic of China, founded in 1987 and now has branches all over the world such as America, Japan, Poland, etc. Haier come to serve the best technology with concept ECO LIFE (product design for SMARTER LIFE, power saving and good quality).
KTH also has our own warehouses and logistics support in Phnom Penh and strategically located provinces for distribution of our products nationwide.
KTH responsibilities are to setup offices, sales branches, and service centers throughout Cambodia. Our immediate goal is to enhance a sales and marketing force which will offer high quality pre-sales and post-sales support with international standards, Further to this, our vision is customer focused, as to provide them with the best products & services according to our International Standards.
KTH will continuously assist in promoting sales for marked requirement and will setup promotional campaigns to repay and reward our loyal customers, Jointly with our business partners, we hope to continue building successful business for years to come.
© K Thong Huot Telecom Co., Ltd 2006-2013. All rights reserved.