KTH Telecom Company Limited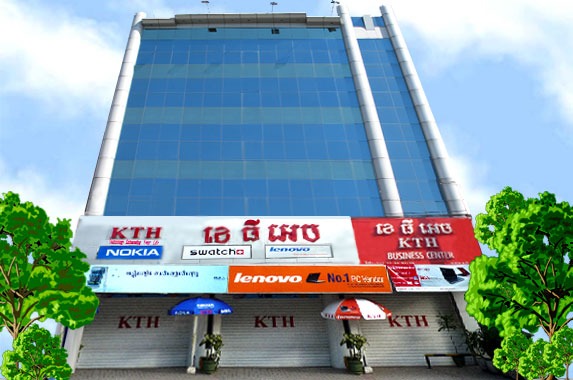 Founded in August, 2002, KTH is a part of PSK, group of companies which focus on 4 industry, including FMCG and Community distribution, Telecom and consumer Electronics, Logistics and Manufacturing .
In year 2002, KTH started off with only 10 staff to distribute Nokia mobile phones in the Cambodia market. A year later in 2003, with our successful penetration, of Nokia by KTH, the full operations team developed up to 150 staff as of today. With the success of KTH for Nokia mobile phone distribution, LTH, our subsidiary company in Laos was thus set up in 2005.
KTH distributes the world's leading mobile phones and accessories. We have over 1300 associates today serving the Cambodian and Laos market. KTH mainly deals with NOKIA mobile and relevant products on an "exclusive/sole" distributorship designated by NOKIA Mobile for the Kingdom of Cambodia and Laos.
KTH has demonstrated high professional standards and quality in every face of its organization to be awarded this prestigious right and remains number 1 in both countries today.
After much great success of market penetration of the Nokia brand and recognizing the needs of the local market, KTH started in 2010 to partner with Lenovo - IBM Technology and manufacturing process and more recently, Haier Group, for Home Electrical Appliances, serving demand of mid-end customers , to drive our vision of 'Technology enhancing your life'' ideology with the future and especially our clients and customers at the top of our priorities, KTH have now Nokia mobile phones and Lenovo computers as our main product lines. In 2012, KTH has received an Exclusive distribution of Electrolux and PIONEER in 2013.
Nokia
Sharing Nokia's 'Connecting People' principal, KTH is proud to be one of Nokia's business partners'. Offering a wide range of mobile phones at affordable prices with Symbian and Maemo technology, Nokia has a significant achievement as the world's leading supplier of mobile phone distribution and market share. Recognizing the needs to further bring people closer and to offer users more than just a phone, With new generation of LUMIA series NOKIA is able to increase more market share and most importantly serves end user, demand of SMART technology.
Lenovo
Through Lenovo's concept of 'New World New Thinking' philosophy provides consumers worldwide with the highest standard technological products at the most affordable prices. Lenovo is one of the world's largest makers of personal computers with technology, engineer and R+D teams from original IBM platform and makes the world's most innovative PCs, including the renowned ThinkPad® (by IBM Technology) notebook as well as products carrying the ThinkCentre, ThinkStation, ThinkServer, IdeaCentre and IdeaPad sub-brands.
Haier
Haier is the biggest manufacturer of home electric appliances in China. Haier head office is located at Qingdao, Republic of China, founded in 1987 and now has branches all over the world such as America, Japan, Poland, etc. Haier come to serve the best technology with concept ECO LIFE (product design for SMARTER LIFE, power saving and good quality) Haier cooperate with KTH Co.,Ltd and have appointed KTH as the Officially Authorized Distribution and Service Center in Cambodian Market .
Electrolux
Based on extensive consumer insight to meet the real needs of consumers and professionals, Electrolux focuses on innovations that are thoughtfully designed in concept " Thinking of you " Electrolux has been doing business since 1919. Today, the company is a global leader in home appliances and appliances for professional use, selling more than 50 million products to customers in 150 markets every year. Electrolux cooperate with KTH Co.,Ltd in year 2012 and have provided KTH as the Officially Authorized Sole Distribution in Cambodian Market.
Pioneer
To realize its group philosophy, "Move the Heart and Touch the Soul," Pioneer is committed to remaining at the vanguard of creating cutting-edge new markets. All directors and employees of the Pioneer Group will work as one to reach this goal. Furthermore, Pioneer aims to remain a trusted company in the eyes of the public by actively pursuing business activities as well as fulfilling its corporate social responsibilities. Pioneer cooperate with KTH Co.,Ltd in year 2013 and have provided KTH as the Officially Authorized Sole Distribution in Cambodian Market.
Lenovo Smartphone
Lenovo is top leading smartphone brand in the world with reddot design award in 2013. Moreover, Lenovo finalized its purchase of Motorola Mobility from Google, welcoming nearly 3,500 new colleagues and accelerating its established strategy to become a global leader across the full spectrum of connected devices. By leveraging Motorola Mobility's iconic brand and innovative product portfolio, in combination with Lenovo's proven global scale, this acquisition will offer customers in more markets a wider choice of innovative mobile devices with compelling pricing and value. Lenovo smartphone cooperate with KTH to be the official authorized sole distributor in 2014
KTH also has our own warehouses and logistics support in Phnom Penh and strategically located provinces for distribution of our products nationwide.
KTH responsibilities are to setup offices, sales branches, and service centers throughout Cambodia and Lao. Our immediate goal is to enhance a sales and marketing force which will offer high quality pre-sales and post-sales support with international standards. Further to this, our vision is customers focused, as to provide them with the best products & services according to our International Standards.
KTH will continuously assist in promoting sales for market requirements and will setup promotional campaigns to repay and reward our loyal customers. Jointly with our business partners, we hope to continue building a successful business for years to come.
© K Thong Huot Telecom Co., Ltd 2006-2018. All Rights Reserved.